How will you GoPro?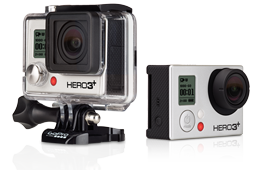 Win your dream adventure.  Amaze us with an epic idea for the chance to make it a reality & score the ultimate prize: a GoPro-produced video starring you.  Go anywhere.  Do anything.  Capture it all with the new HERO3+.  It's on.
Step 1: Answer
Answer the question "How will you GoPro?" in 500 characters or less.
Step 2: Create
Create an original drawing, movie poster, collage or any other visual representation of your idea featuring the GoPro logo.
Step 3: Share
Share your entry with friends using the hashtag #iwillgopro.  If your idea is chosen as the Grand Prize winner, you and a friend will travel with a GoPro film crew to create a video of your epic adventure.
The Promotion begins on 1-10-2013 and ends on 4-12-2013
The winners will be announced by 13-12-2013
Winners: One potential Grand Prize winner, two potential Runner-Up Prize winners, and up-to 1000 Consolation Prize Winners.
("Grand Prize") (1) Grand Prize: $47,500 USD
Dream Adventure with a +1 – up to $30k value (GoPro Film crew to attend and record your adventure)
$15,000 USD
GoPro "Everything We Make" Package
("Weekly Winners") (2) Weekly Prize: $2,500 USD
GoPro's "Everything We Make" Package
Consolation prize(s) Min: $75 USD, Max: $200 USD
Up to one thousand (1000) entrants will be rewarded with 25% the purchase of a Black or Silver Edition HERO Camera on GoPro.com in their local currency, when applicable.
Production Schedule

Grand Prize Winner and their guest will participate in the production and editing of a GoPro video between 1-1-2014 and 31-12-2014, including travel to the GoPro headquarters in the San Francisco, California Bay Area region.
NO ENTRY FEE. NO PURCHASE NECESSARY TO ENTER OR WIN.
http://gopro.com/iwillgopro